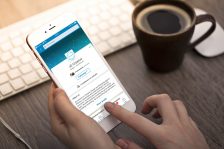 Monday 18th June, 9.30am to 12pm
Regent House (North Entrance), Princes Court, Beam Heath Way, Nantwich, Cheshire CW5 6PQ
We are delighted to be holding a LinkedIn training session in our new meeting room in Nantwich run by Lucy from Comma Sense.
There are over 500 million people on LinkedIn. That's a huge audience of business decision makers to tap into!
Linkedin is a powerful platform that you can use to create a strong professional network, to build credibility and trust your business, and generate referrals and leads.    
If you'd like to understand how to use LinkedIn for business and become more confident using the platform then this training is for you.
This two-hour session covers:
– Reasons to use LinkedIn to build business relationships
– Key differences between the PC and mobile version of the site
– How to optimise your personal profile to get found
– Making connections with the right people
– Using LinkedIn Groups to bring together people with a common interest e.g. pre- or post-event communications
– Getting involved in LinkedIn conversations
– What to post, what not to post and how to post
– Key differences between posts and articles
– Further hints and tips including how to optimise your newsfeed to see more relevant content
– Includes FREE profile review and suggestions for improvement
The cost is just £65 per head which includes refreshments.
Please bring your own laptop to the training session.
The meeting room is ground floor with ramp access and there is plenty of free parking available.
Spaces can be booked by emailing alison@jg-creative.co.uk