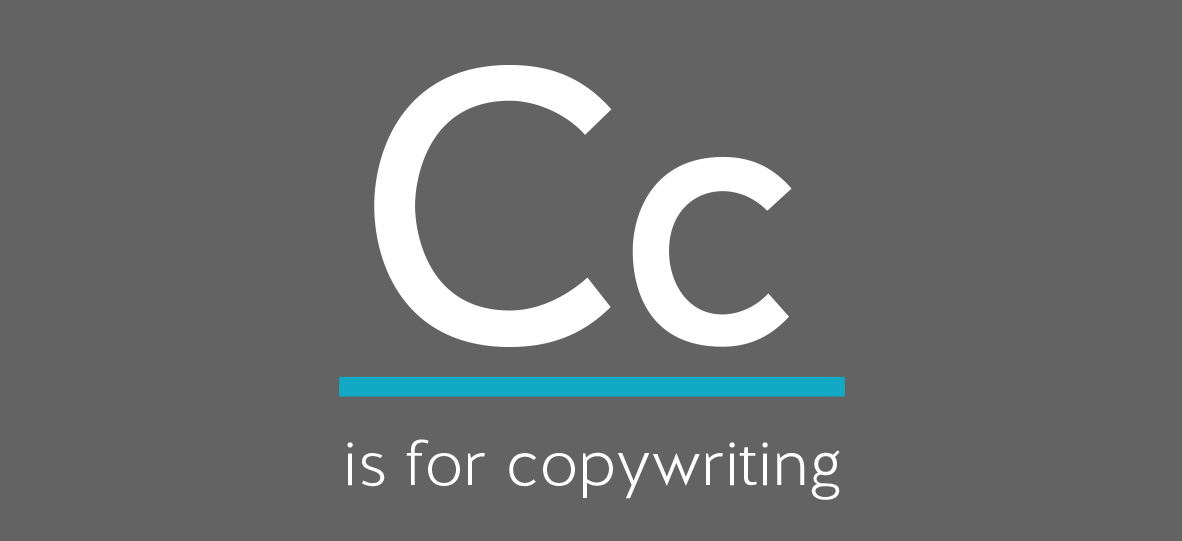 C is for Copywriting
Copywriting is a powerful skill. Get it right and you'll capture your audience and engage them in your brand for life; get it wrong and you could turn people off completely.
Why is copywriting so important?
I am lucky to have been involved in some brilliantly creative (and sometimes challenging) copywriting projects with JG Creative. It's easy to work with them because Jo and the team truly appreciate the value of great copy.
Anyone can write, but writing clear, concise and engaging content is a talent. You might think you can write your own copy, but it may well take you a lot longer than a professional. It's important to recognise your strengths and ask your design agency for help if you need it.
A good copywriter will:
Look at your communication objectively and from an audience perspective

Help you establish a writing style, language and tone of voice that's appropriate for your audience

Pull out key messages and craft engaging copy that resonates with your reader

Use different techniques to break up the copy, making it easier to read

Identify how to get a response from the reader and encourage this in the copy
Different materials and audiences require different copy
Communicating a consistent message is really important, however different projects require different copywriting styles. Writing brochure copy is very different to writing web copy. Online messages must be succinct to capture attention; keywords and search terms will often need to be incorporated. The same applies to different audiences. Style and language for an audience of corporate decision-makers would be very different to a group of school leavers. It's important to talk to people in an appropriate tone so they know the information is meant for them.
For example, explaining how apprenticeships can benefit the two different audiences mentioned above:
Corporate decision-makers
Apprenticeships are a great way of attracting enthusiastic talent with fresh ideas. They provide skilled workers to help you grow your business. 
School leavers
An apprenticeship is an opportunity to earn while you learn at your own pace, whilst gaining practical skills and experience in a job that excites you.
Good design needs great copy
Great copy will make your designer's job easier. If you have limited space because your design is very big or very small, then your copy must be well written and engaging. A copywriter and designer will work together to agree how much content is needed and what the key messages are.
Some useful tips
These simple but clever approaches can help to get your message across:
Sub-headers and bullet points break up text and make it easier to read

Quotes and callouts

highlight key pieces of information

Storytelling engages more deeply with your audience
Good design will capture your audience's attention so that they look at your communication but you need good copywriting to ensure they stay for the message. Contact JG Creative to ensure you look and sound good!
Lucy Jackman
Comma Sense