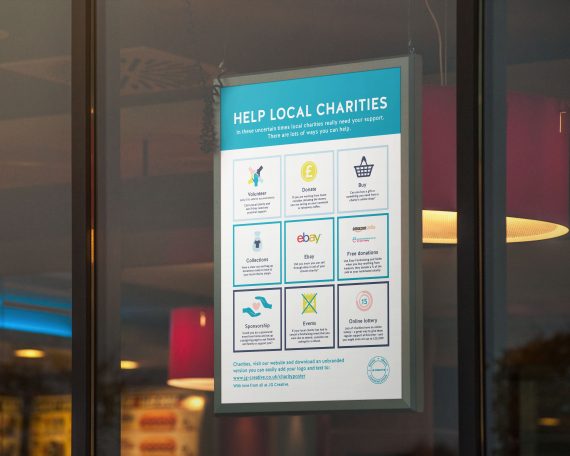 At this uncertain time we want to help as much as we can. We've created this simple poster which charities can personalise and use to remind people how they can continue to be supportive. Each square is also saved for you to download below as an individual square jpeg which could be useful social media content. Please use them freely!
If you're an individual and want to help then download our Help Charities poster and share to support all charities.
How to personalise the poster
Download this pdf poster
Open in Acrobat Reader (this is important as the features won't work if it's opened in something else. You should have it on your computer already but if not download it here)
In the top right hand corner is a space to put your logo. When you hover over the empty area you'll see the words 'click here to upload your logo'. Click there and use the 'Browse' button to go and select a copy of your logo from your computer. A Jpeg or png is best. It will automatically scale it to fit in the centre of the space.
Then at the bottom you can replace all the text in the blue box with whatever you want to tell people about the best way for them to help you and how to get in contact.
Finally save it as a pdf or jpeg and share it wherever you can.
Social media images
Click on the link below to download the individual image or get the whole folder here.
Thinking of you all and if there is anything that we can do please do just email jo@jg-creative.co.uk or call us on 01270 626624.