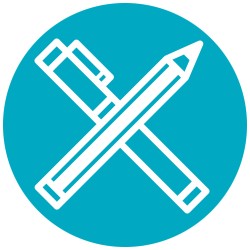 Recently, one of our clients, who is a business membership organisation, was expressing their concern to me about ensuring they were fair to all of their members. 
They have hundreds of local businesses who have paid to be a member of their organisation and they try and to use their members to buy services from to keep the business local – a fantastic ethos. But what happens when you have several members who all offer the same services? You could send the details of the job to everyone and give them all the opportunity to quote, but it's labour intensive to communicate with everyone and answer all of their questions. If it's a graphic design job, you might also have lots of jobs to be done within the year, both large and small, and asking everyone, every time is not a realistic option.
So what do you do? Well I suggested they set up a design roster. I wanted to follow up with some more details of what setting up a roster entailed, but after an extensive google search it didn't seem like I could re-hash anyone elses info – I'd actually have to write it myself!
So what is a design (or any industry) roster?
Basically it's a list of companies/individuals who you've pre-selected (through a tendering process) and committed to give work to, as and when the need arises, without the further need to pitch (within a pre-determined time). This give you the freedom to just assign work when needed and agencies are more likely to pitch to be on the roster as the 'prize' is easier to justify the up-front work. The agencies on the roster still have to quote for a job, but no free creative work is needed as they've already 'proven themselves'.
Google didn't let me down totally. This is a great example of when the BBC tendered for a Digital Agency (http://www.bbc.co.uk/blogs/internet/entries/2ddeb1d0-342a-3ce4-a2ae-a0e14a00adef). You'll note that they made it clear:
How many agencies would be on the final roster

How long the roster would last for

The date the roster would start

How much money they expect to spend with the agencies over that time

What the agencies will be working on

Key applicant criteria (minimum annual turnover and length of time trading)

What diversity they're looking for across the range of agencies they choose.
For the membership organisation I'm working with they need a roster of agencies that can deliver everything from websites and leaflets to events promotion and a regular magazine. They're unlikely to find one agency that can do everything well, so they will need to choose a small group of agencies which can do everything between them, and (this is key) are happy to work together to produce the best results. I know that brand managers in larger organisations get all their rostered agencies together regularly for 'show and tell' so they can see what's being produced and discuss any brand challenges they're finding which they can find solutions to together. This is a great idea.
But how do you choose the right agencies?
You'll have to come up with the process that's right for you but I'd suggest something like this:
Look at everything you need to produce in the next 12-24 months and write it all down. Estimate the budget you've got to produce it all. Think about what the key attributes are of suppliers you like to work with (highly creative, cost-effective, based locally, good payment terms etc). Put all of this information into a simple document to explain what you're looking for. It might seen like a lot of work, but remember you'll only need to do it once every two years (I'd recommend this as a minimum).

Send this document to all of the agencies you'd like to invite to tender. Include the following:

A form for them to fill out to give you the information you need to make a decision.

The request for three case studies (one A4 page each) which cover three of the different areas of what you're looking for that they can provide. 

Details of two client references, written and their contact details (if you want to follow up).

Specify a deadline which gives them enough time to get the information together and create some high-quality case studies (at least 3 weeks). 

Layout the timings to explain what will happen next. I'd suggest you invite those agencies who 'pass' the initial stages in to meet with you to show you more examples of their work and talk about why they want to work with you. This is also a 'chemistry meeting' to ensure you all get on. Request that they send the people who would actually be working on the account and you do the same.

When you've chosen your group of agencies tell them (ideally on the date you said you would as I can tell you, the waiting to find out is the hardest part!) and invite them to meet each other. Here you can layout your main challenges for the next 24 months and how you'll need their support to meet those challenges. Creative people work really well when given a challenge to mull problems over. By telling them the problems now, when you're ready to brief them on a specific piece of work their brains will have been coming up with solutions all over the place!

Relax and enjoy the less time-consuming process each time you need to get a design job done.
For more information on the Graphic Design industry, rosters or pitching you can use google, or even better contact me, Jo Grubb at JG Creative on 01270 626 624.