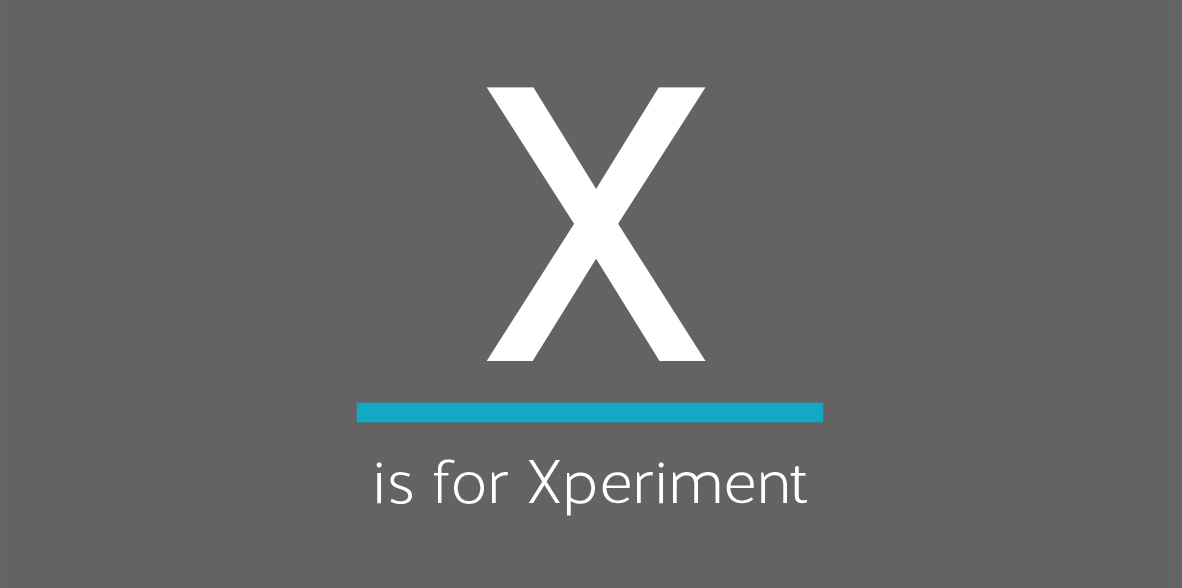 Hello, this is Jo. I've been running JG Creative for over five years now. I had no intention to start a business so I needed to learn fast and often through trial and error. Looking back we learnt a lot through this (e)Xperimentation. I thought to make up for the awful mis-spelling of this week's blog title I'd share some of our hits and misses with you when it comes to trying new things.
Awards
In a previous job down in London we entered A LOT of awards. I remember going to the events as some of my best ever nights out!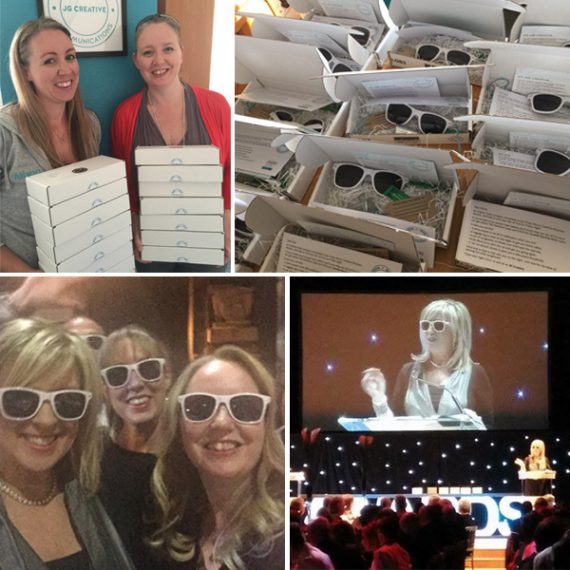 When JG Creative was 12 months old I decided to enter a few of our regional business awards in the 'Start-up' Category. On our first attempt we were shortlisted in the Forward Ladies Awards but came away empty-handed. I didn't like that feeling so I came up with a plan. I could do nothing to control if we walked away with a prize, but I could make sure we got noticed!
For the Cheshire Business Awards 2015, we were shortlisted again and created an Awards Survival Kit which we sent out to all our fellow nominees and all the sponsors, a couple of weeks before the awards. It included a party popper (for when you won), a luggage tag with local mini cab firms' numbers on and a space for your address (to make sure you got home ok), dark glasses (branded of course) and Berocca for the 'morning after the night before'!
Naively we included a note explaining the kit and introducing ourselves but no social media addresses or reason to tell anyone that they'd received it. Amazingly plenty of people did take to social media with photos of the kit, tagging us which was a great lesson in the power of sending something bespoke through the post.
On the night it was crazy. We all arrived wearing our glasses and people were coming up to us to say thanks for their kit and how thrilled they were. Lucy Meakin, the host and TV newsreader even put them on while announcing our category and mentioned how creative we were when she read out the shortlist! We didn't win (again) but I minded much less this time!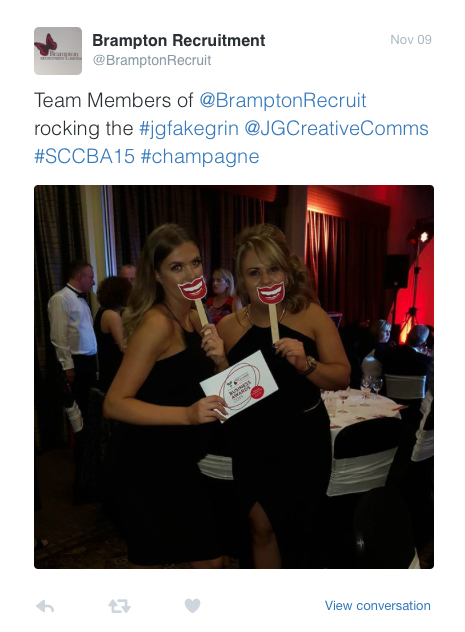 For the South Cheshire Chamber Awards 2015 we sent a 'fake grin' kit to all our fellow nominees (for that moment when you don't win and have to pretend to be ok with it)!
We were smarter this time and incentivised people to tweet their pictures of themselves with their fake grin for the chance to win a bottle of champagne. It got a great response both before and on the night. People tagged us too and I saw the 'fake grin' on people's desks for years afterwards!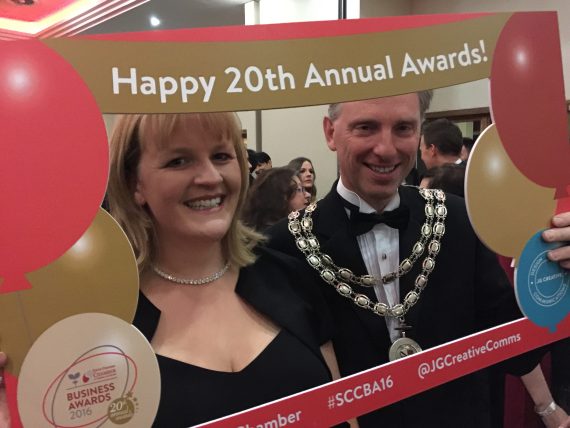 Finally for the South Cheshire Chamber Awards 2016 we created a 'Happy 20th Annual Awards' selfie frame which we took round on the night taking pictures of guests. We uploaded them to twitter and people loved tagging themselves! We've since done several of these for our clients because they loved the idea for their own events.
CONCLUSION: Take control of an awards night and get yourself noticed. But do remember to follow up afterwards and be clear about why you're doing it. That was my big learning. Plus it feels really good when you do win one!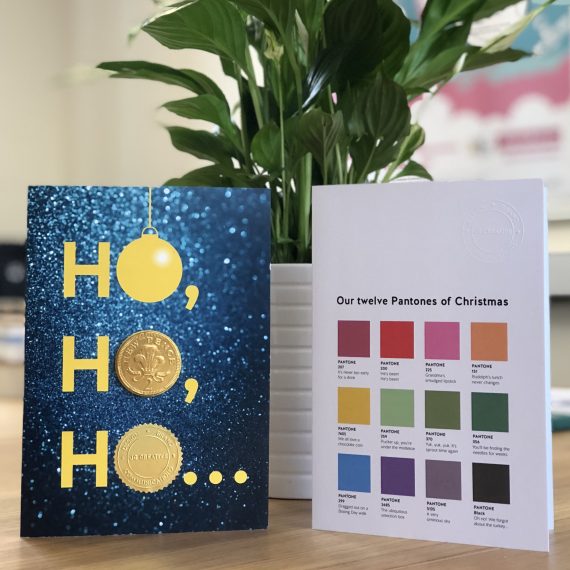 Christmas
I think it's important to say thank you to our clients every year. My top tip is that humour and the personal touch work well. If you just print 500 Christmas cards  (or worse an e-card) and send everyone the same thing it won't make them feel special!
In the beginning I gave out vintage tea cups or mugs filled with chocolate coins and tea bags and wrapped with our own branded  ribbon. These were even hand delivered as I saw clients throughout December.
Year two was Molton Brown and Hotel Chocolate gifts in JG Creative wrapping paper (that was fun to design) and were again mostly hand delivered.
Year three and we had more clients a lot of whom were further afield and who I saw less frequently. We were also working with a lot of charities and wanted to give something back. All of our clients got a personal email from me explaining that a donation had been made on their behalf to all of our charity clients.
Two years ago we realised we had over 100 people to communicate with so we went back to doing what we do best and designed a fab Christmas card, with an integrated chocolate coin and an embossed logo. These all had a handwritten message (that took a while)!
Finally for Christmas 2017 we had a great design idea for a Pantone swatch card with funny descriptions underneath, all printed on a beautiful white metallic stock and then hand-embossed using our company press. These were again hand written and there were a LOT of them. I think we started in November… but well worth it.
We've already planned this year's offering and it's very exciting. Are you on the list?
CONCLUSION: Look after your clients. Let them know they're valued. Ideally more than once a year, but that's a good start!
E-newsletter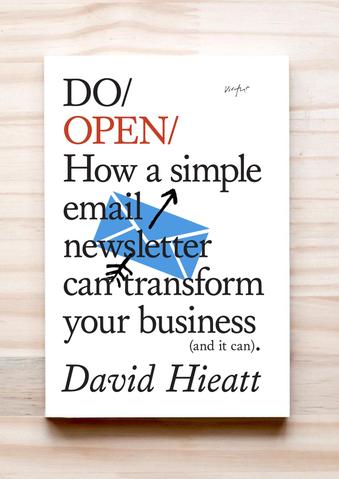 You're probably here because you received our e-newsletter (if not sign up at the bottom of this page). Sending out corporate emails was something I was against for a long time. I'd seen so many bad ones and others that just sold a company's services rather than offering any value to the recipient. We were also busy and I didn't want to start anything we couldn't continue or which got really sporadic.
Then I read this book. Do Open – How a simple email newsletter can transform your business (and it can) by David Hieatt.  It clarified everything that I'd been thinking about sending a regular email out and I realised that there was a way to do it well. To summarise – little and often is best. And give people three things which are useful for them for every one sales message. This is the formula we've stuck to this whole year and it's worked really well for us.
We send it out on a Friday, once a fortnight and it's not unusual for me to get a couple of emails afterwards from a subscriber saying how much they enjoyed it or that they found this week's blog really useful. It makes me so happy to be giving people useful content!
We also send our emails through mailchimp which gives you the most wonderful stats to pore over. We review them every month at our marketing meeting and have learnt over the last 12 months what our audience is interested in. Then we give them more of that. Simples.
CONCLUSION: Buy the book. Read the book. Do what the book says. Look at your stats REGULARLY.
Blogs
One of the things that the Do Open book talked about was having good content in your email and giving people a reason to open it. I liked the idea of having a series of information that built into something genuinely useful, and so our A-Z of design blogs was born. It's very handy that we send our email fortnightly and there are 26 letters in the alphabet – means that it takes exactly one year!
We pre-wrote the first four blogs before we sent out the first one. I knew we'd get busy and didn't want to be doing them at the last minute. That isn't to say there haven't been a fair few written very late on a Thursday night!
Top tip – you don't have to write them yourself. As a design agency we have a couple of great copywriters who we work with. We briefed one of them to write our first four blogs, using the topics and info we provided. This set the tone for us and established a good length and structure. She also stepped back in a couple of times to write a few more during our busy periods. We also had some guest bloggers. Like our copywriters we work closely with photographers, videographers, developers and it seemed wrong for us to write about these areas when we know people who have more expertise. This gives our readers access to specialist knowledge and our bloggers exposure to our readers. Win – win.
CONCLUSION: Ensure you're imparting genuinely useful information for readers and include a thread or theme through your blogs so people don't want to miss an issue.
There's lots more that I've learnt but this blog is excessively long already! I'll need to write part two at some point. Or take me out for coffee and I'll spill all!
Joanne Grubb, JG Creative Owner and Creative Director.
If you liked this you might want to read my blog about networking too.