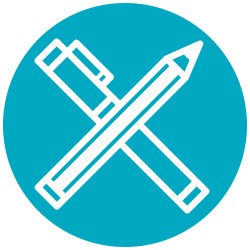 We're a friendly, helpful and knowledgeable bunch here at JG Creative. Clients feel comfortable asking us questions about the design process or what makes a great communication, and we love to answer them!
Welcome to the A-Z of Design.
This will be a series of blog posts (26 in fact) covering the essential elements of design and communications, created to answer all the questions you've ever wanted to ask on the subject.
We'll post a new blog from one of the team every fortnight (look out for some guest posts from other clever people too). We love to know what you think or if there's anything you'd love to know!
A is for Audience, a blog from JG Creative Owner, Jo Grubb.
B is for Brief, a blog from Senior Designer, Nicki Francomb.
C is for Copywriting, a guest blog from Comma Sense owner, Lucy Jackman.
D is for Decisions, a blog from Marketing Manager, Alison Bowett.
E is for Everyone, a blog from Jo about design that's accessible for all.
F is for Feedback, a blog from Senior Designer, Nicki Francomb about how to give effective feedback.
G is for Guidelines, a blog from Jo with great brand guideline examples.
H is for Hierarchy, a blog from Nicki all about laying out your information.
I is for infographics, coming on Jan 26th 2018.